Vi er
sammen
svedige grineflip
dit personlige heppekor
150 par klipklappere i spisesalen...
fælles
den første af vores slags
ligesom dig
Ollerup
Som elev på Gymnastikhøjskolen i Ollerup sammensætter du i høj grad selv dit ophold. Du vælger nemlig selv cirka halvdelen af dine ugentlige undervisningstimer, så du kan være sikker på, at dit ophold er faconsyet præcis til dig.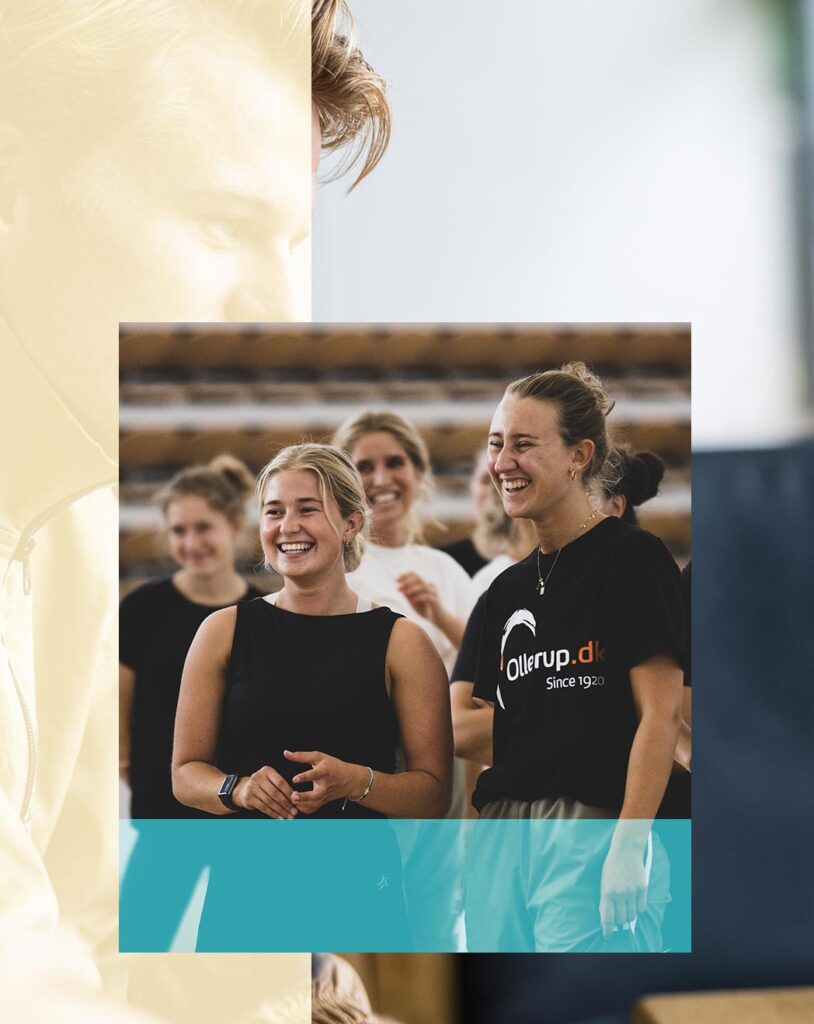 Vi har verdens bedste hverdag – og det ved vi, fordi vi lever i den hver eneste dag. Når du starter hos os, bliver du en del af et aktivt, socialt og lærerigt miljø, som kredser om det fællesskab, vi sammen skaber. Hvis du gerne vil danne dig et lidt mere konkret indtryk af hverdagen og læse mere om vores højskolefag og valgfag, vil du med garanti finde noget, du interesserer dig for. Du finder sikkert også noget, du ikke har prøvet før – hvor du både kan få nye oplevelser og tid til at tænke dig om. Alle fag er nemlig tilrettelagt til at udvikle, skubbe og oplyse dig.
Sammensæt dit højskoleophold
Et højskoleophold på Gymnastikhøjskolen i Ollerup er baseret på lyst og valgfrihed, og du har stor mulighed for at styre indholdet af dit ophold.
Allerede ved tilmelding vælger du det linjefag, som du følger hele semestret. Det er, sammen med vores obligatoriske højskolefag, rammen om dit ophold.
Når du ankommer og er blevet introduceret for dit nye hjem, skal du desuden vælge dine første valgfag og idrætsvalgfag – dem vælger du både umiddelbart efter ankomst og igen cirka halvvejs i semestret. Vær opmærksom på, at udbuddet varierer fra semester til semester, og vores nuværende udvalg altså bare er eksempler på de mest almindelige og oftest udbudte valgfag. Flere kan komme til, ligesom flere kan sættes på pause – men det giver sig selv, når du først er på skolen.
Du har også mulighed for at vælge dig ind i et elevudvalg og være med til at gøre en aktiv forskel for dit semester. Vi har forholdsvis mange aktive udvalg, og opfordrer alle med noget på hjerte til at deltage og engagere sig i udvalgene. Du får mere information om både udvalg og dine muligheder for deltagelse ved opstart.
1 Tilmelding
2 Introuge
3 Midtvejs i opholdet
1 Tilmelding
Dans (forår)
Politi
Rytme (forår)
Powertumbling
TeamGym
Tumbling X
Sundhed & Fitness
Hubster (efterår)
Rytme & Dans (efterår)
2 Introuge
3 Midtvejs i opholdet
Der er masser af muligheder på Ollerup.
Se hvad du kan bruge et ophold til!
Jeg synes det er det fedeste at være på højskole. Hvis det stod til mig, så skulle jeg bare blive her
As an international: Just come! Everybody, literally everybody will try to support you in any way
Jeg synes der er unikt, at vi har så mange muligheder, uanset om man er til styrketræning eller til gymnastik, eller godt kan lide at svømme, så har vi mulighed for det hele her, og der er altid nogen at lave ting sammen med.
Det er dog vigtigt for os at understrege, at lyst og valgfrihed går hånd i hånd med ansvar og pligter. Når du vælger at tage på højskole, vælger du nemlig også at sige ja til en masse, du ikke direkte har haft indflydelse på; du siger bl.a. ja til en række fastlagte fag og arrangementer, ja til at følge lovkravet om at deltage i undervisningen og ja til at være en del af et forpligtende fællesskab.
Nedenfor kan du danne dig et overblik over, hvordan hverdagen ser ud i form af et ugeskema.
Vær opmærksom på, at der er forskellige skemaer, afhængigt af om du skal være elev i et forårs- eller efterårssemester. Fx er vi i foråret så mange, at vi bliver nødt til at inddele nogle af timerne i blok A og B, og i efteråret får du to forskellige idrætsvalgfag i hver periode, hvilket betyder, du kan prøve fire forskellige i alt.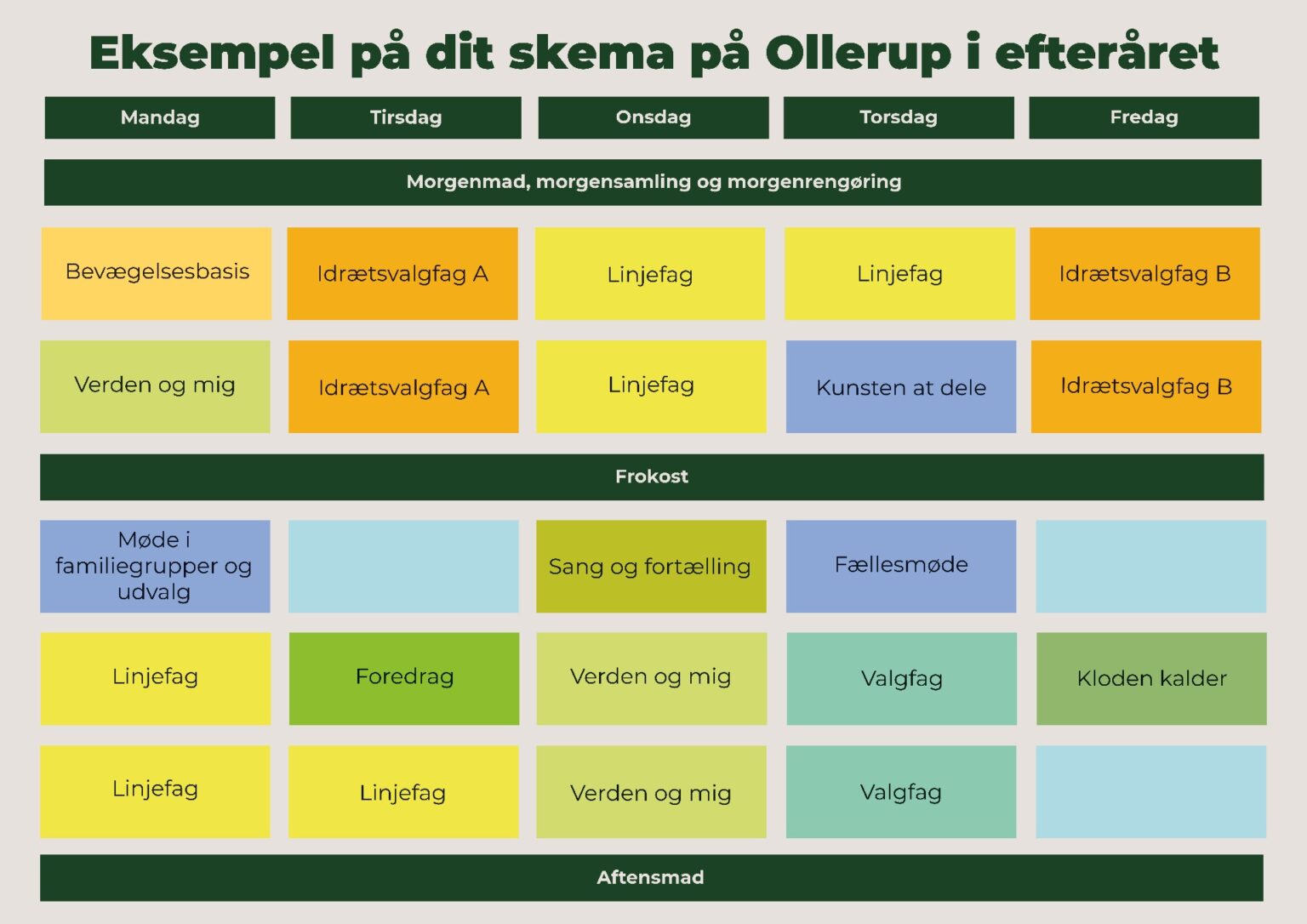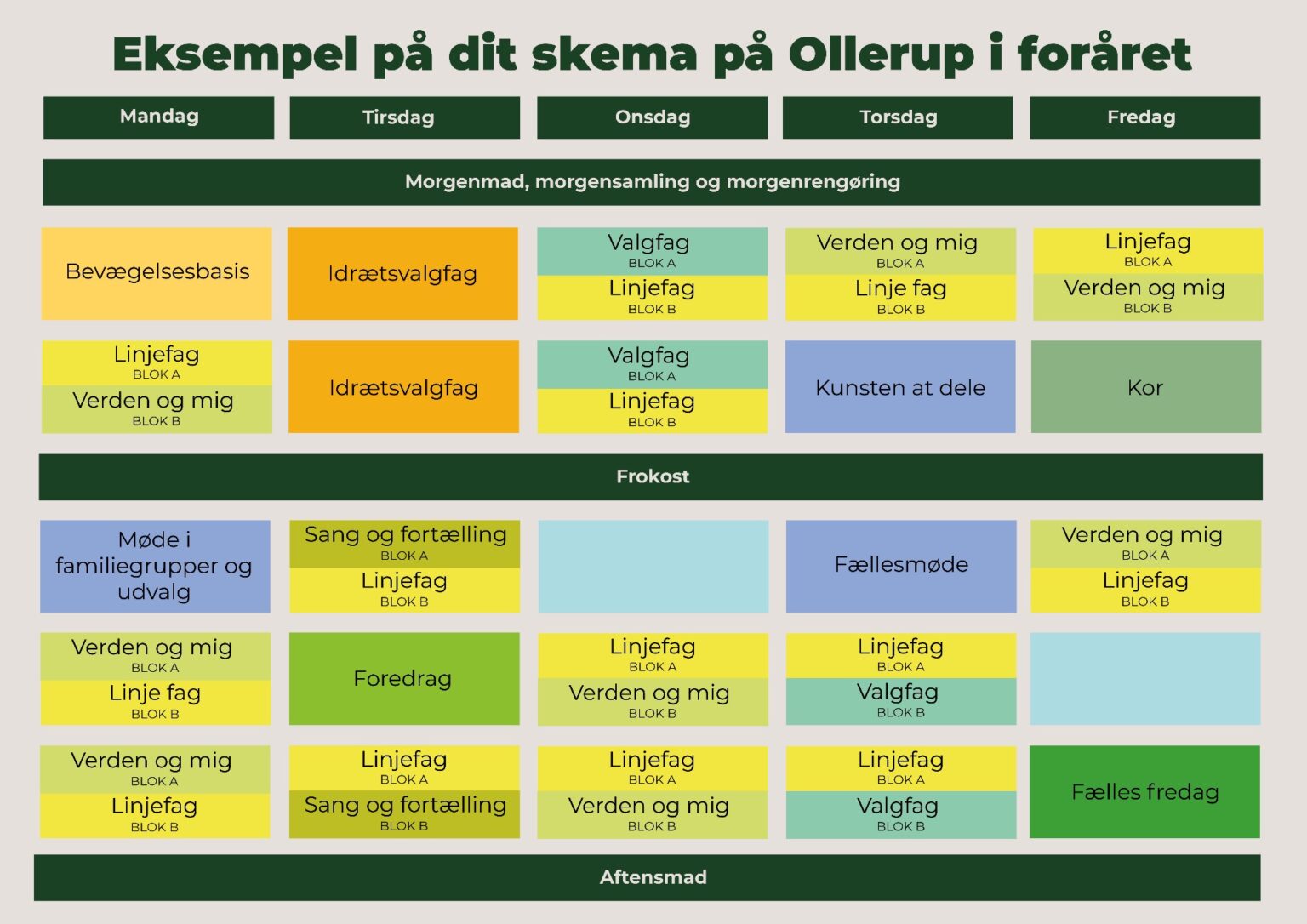 Et højskoleophold er foruden det daglige skema brudt op af temauger og studieture. I foråret ligger der fast en skitur, og i efteråret er der forskellige destinationer. 
Du kan læse mere om praktiske informationer som skema, semesterplan, linjer, fag, normaluger, specialuger, elevweekender, friweekender, fællesfag, LUP, regler og dagligdag på skolen. Læs information til kommende elever her.
Der er masser af muligheder på Ollerup.
Se hvad du kan bruge et ophold til!